More demo love for you and me ^^
TOM CLANCY'S H.A.W.XTM DEMO AVAILABLE FEBRUARY 11 ON XBOX LIVE® AND FEBRUARY 12 ON PLAYSTATION® NETWORK
LONDON, UK – February 10, 2009 – Today Ubisoft announces that an official Tom Clancy's H.A.W.X™ demo will be available for download for the Xbox 360® video game and entertainment system from Microsoft on Xbox LIVE® online entertainment network beginning on February 11, 2009 and for the PLAYSTATION®3 computer entertainment system on the PLAYSTATION® network beginning on February 12, 2009. The demo will be also available for Windows-based PCs beginning on February 26, 2009.
In this demo, players will dominate the skies for the first time and battle planes, tanks and amphibious assaults and have the opportunity to dogfight with other elite pilots in a stunning panoramic boss scene.
Key features of the H.A.W.X demo:
o Co-op enabled for up to 4 players – Jump in/Jump out
o Gain experience points and unlock up to three real, licensed planes in the demo:
o F-16A Fighting Falcon
o SU-35 Super Flanker
o AV-8B Harrier II
o Choose between two different game modes:
o Normal – Default control type
o Expert – Allows full control over the aircraft in "Assistance Off" mode
o Two heart-pounding missions:
o Operation: Off Certification (Training mode)
o Learn the skills of an elite pilot in "Assistance Off" mode and pull extreme maneuvers
o Operation: Glass Hammer (Rio De Janeiro)
o Take flight over GeoEye technology (the world's best satellite data), and witness Brazil like never before
o Learn to use the Enhanced Reality System in "Assistance On" mode, where your plane's computer calculates the best interception course for you to follow to attack an enemy, evade a missile or hit a ground target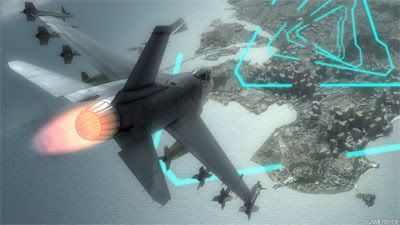 Not really a fan of the flight-plane genre but I'll give this a try. More free demos is better than nothing.
Oh yeah, there's also a new trailer over at Gamersyde.
UPDATE:
Seems like PS3 owners will have to wait for a couple of days before getting a chance to test fly this new demo.
"The demo was due to be released today on PS3, but it has apparently suffered with technical difficulties. A post on Ubisoft's Twitter page states: "HAWX PS3 demo delayed to Feb 26th, due to the late discovery of an unexpected issue. We apologize for the situation."
Saw this over at http://www.psu.com. Hopefully this doesn't affect the overall quality of the game for PS3 owners.